Welcome future Rangers!

So you want to mint a Wildcat Ranger and need to know how? Let's go over our minting system!

Supported Wallets – you must use a Web 3.0 compatable wallet (like what you use on Jpg.Store). We have officially tested Nami and Eternl, but other Web 3.0 Cardano wallets should work as well.

When should you mint?
If you have a Rangers List Mint using ADA, a Free Claim, or want to mint with HashCoins, you need to mint during the Rangers List minting period that starts on 16 December 2022 at 6 PM UTC (10AM PST | 1 PM EST).

If you do not have one of these spots, don't worry! There will be mints left over for public minting that starts on 17 December 2022 at 6 pm UTC (10AM PST | 1 PM EST).

Mobile Users:
Mobile users can use the Eternl Dapp wallet/browser for our public mint ADA mint! You will find the link to our minting page on the Dapp Browser section of the Eternl mobile wallet.

If you need to mint via mobile using during the Rangers List mint, see the special instructions at the bottom of this tutorial.


Step 1 – Joining the Mint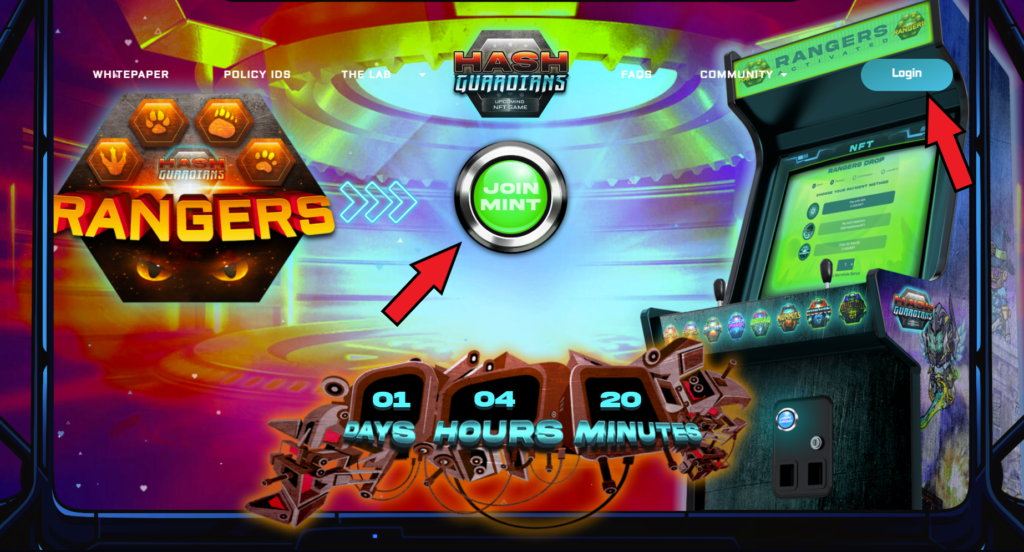 To open the minting page, just click the big green Join Mint button on our homepage. Simple as that!

Note: For Rangers List mints, Free Claims, and HashBox mints – you will need to log into your HashGuardians account prior to opening the minting page.


Step 2 – Countdown Page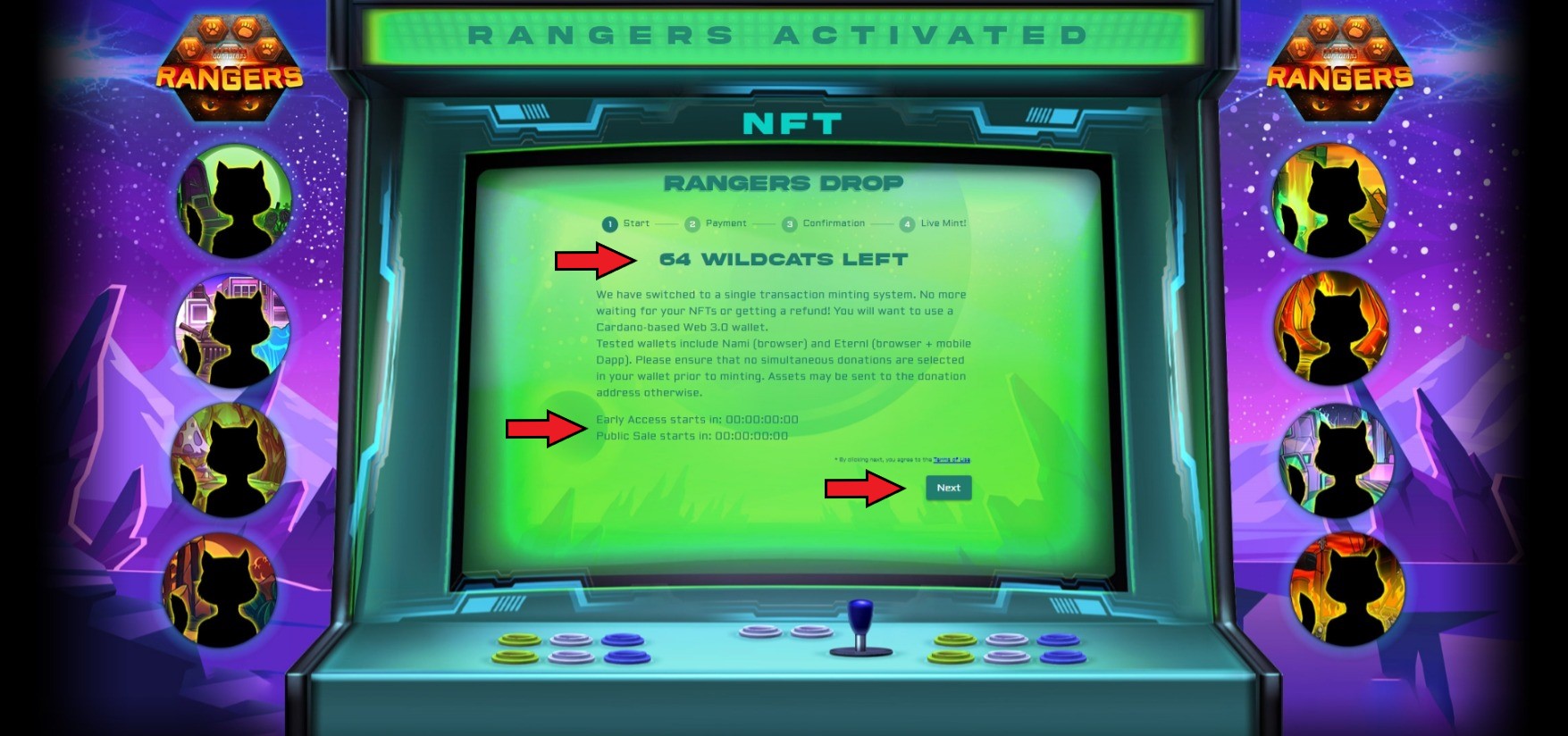 On the countdown page, you will see the remaining number of NFTs left to mint, as well as the timers showing how long until the start of the Early Access and Public Mints.

Early Access Mint = Rangers List ADA Mints + Free Claims + HashCoin Mints.
Early Access will be open for 24 hours. If you have Rangers List/Free Claims/HashCoin mints, you must mint during the Early Access period to guarantee getting you NFTs! Remember to log into your HashGuardians user account to mint!

Public Mint = Open to anyone! You do not need to have a HashGuardians.io account to mint during the period. All NFTs left over from the Early Access mint will be sold during the public Mint – no NFTs will be reserved for Free Claims or HashCoin mints during this time.

Once the minting time is open, press Next to continue to the payment page!


Step 3 – Payment Selection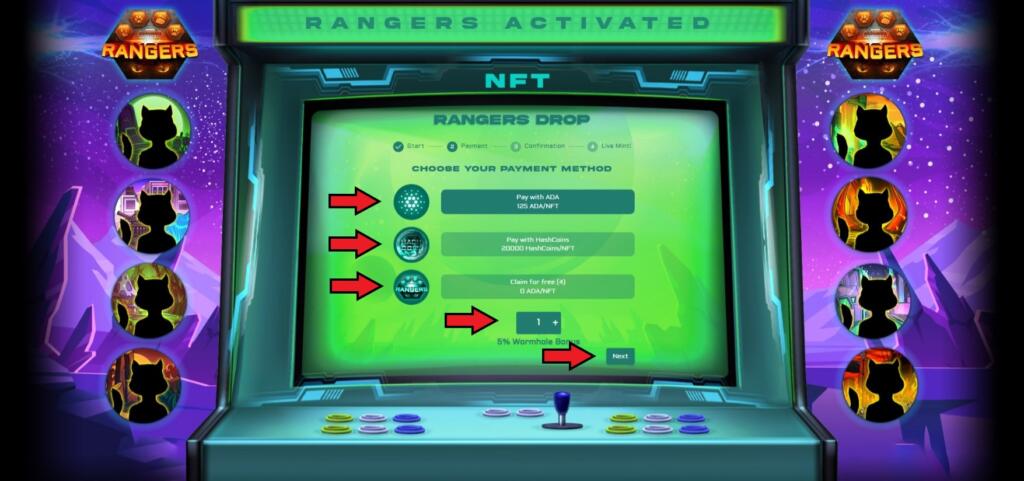 On the payment page you will select your payment type. If you are unable to select a desired payment type, you are either not eligible for the Early Access mint, or you are not logged into your account!

All users will be able to select the ADA payment option during the public mint without needing a HashGuardians account.

Once you have selected your payment type and the number of NFTs you wish to purchase, click next!

HINT: Notice the Wormhole bonus number under the NFT quantity? Professor Hash has put out a new feature – every mint has a chance to win a special prize from our collection!


Step 4 – Reservations and Payment
After clicking next, you will briefly see a Reservation screen. We are grabbing your NFTs to reserve them for you mint. If we are unable to find a reservation, you will be asked to try again or informed that the drop has been sold out.

Once your reservation is found, the Wallet Selection screen will be displayed.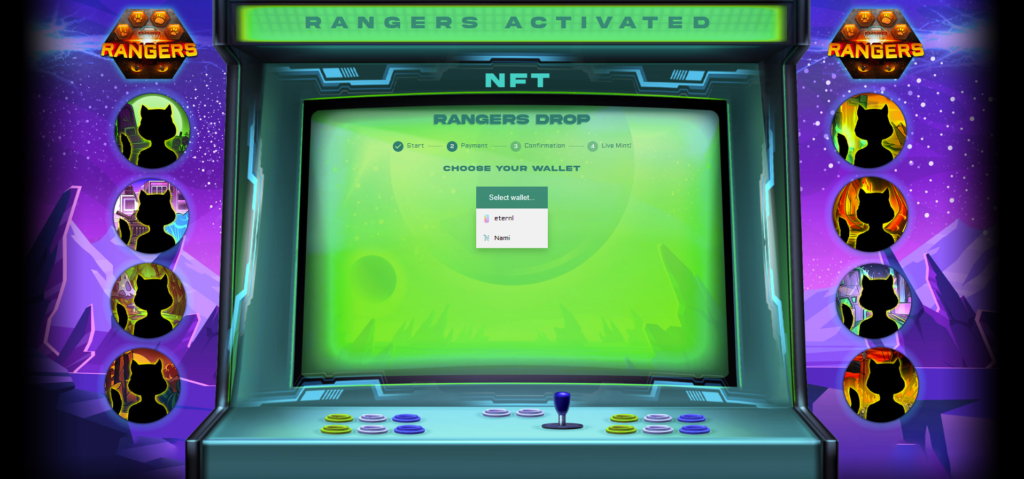 Here you will select your wallet from a list of wallets installed on our browser. Please be sure you have the correct account selected in your wallet if you have used the sub-account feature. You will have 4 minutes to select your wallet.

Approve Wallet Connection
The first time you select a wallet you will be asked to allow our minting system to connect to your wallet. Please allow access to continue the minting process.

Sign Your Transaction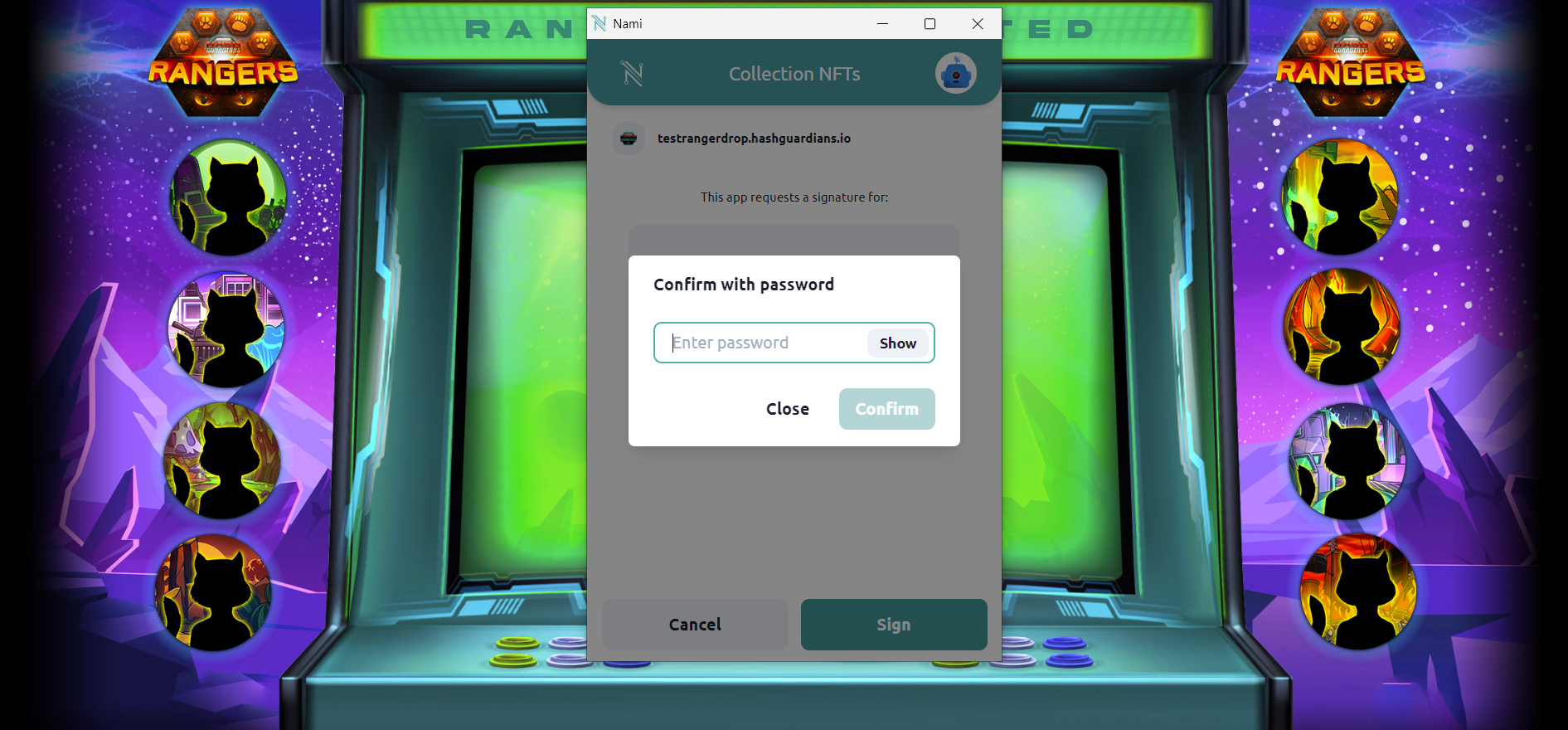 Once the wallet connection is granted, we will create the transaction for your mint! You will need to sign the transaction and submit it to the blockchain! Please do not delay in signing the transaction. Once the transaction is submitted, the confirmation process will begin.

Transaction Confirmation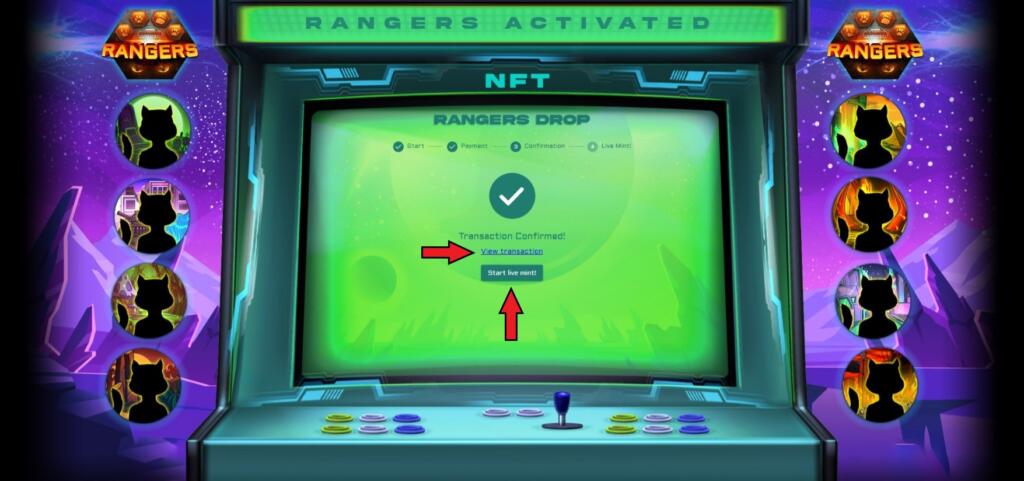 Once the transaction has registered on the blockchain, you will be able to continue to the Live Reveal and Wormhole features! We have a single transaction minting system – This means that as soon as your payment is confirmed on the blockchain, the NFT will be sent to your wallet as well! No more waiting for NFTs to be sent at a later time.

Note: If the transaction is not completed within 15 minutes from the time of your reservation, you will be asked to try again, and the previous transaction will be cancelled (no ADA will leave your wallet). The reserved NFTs will be returned to the general minting pool.


Step 5 – Have Fun with Live Reveal and the Wormhole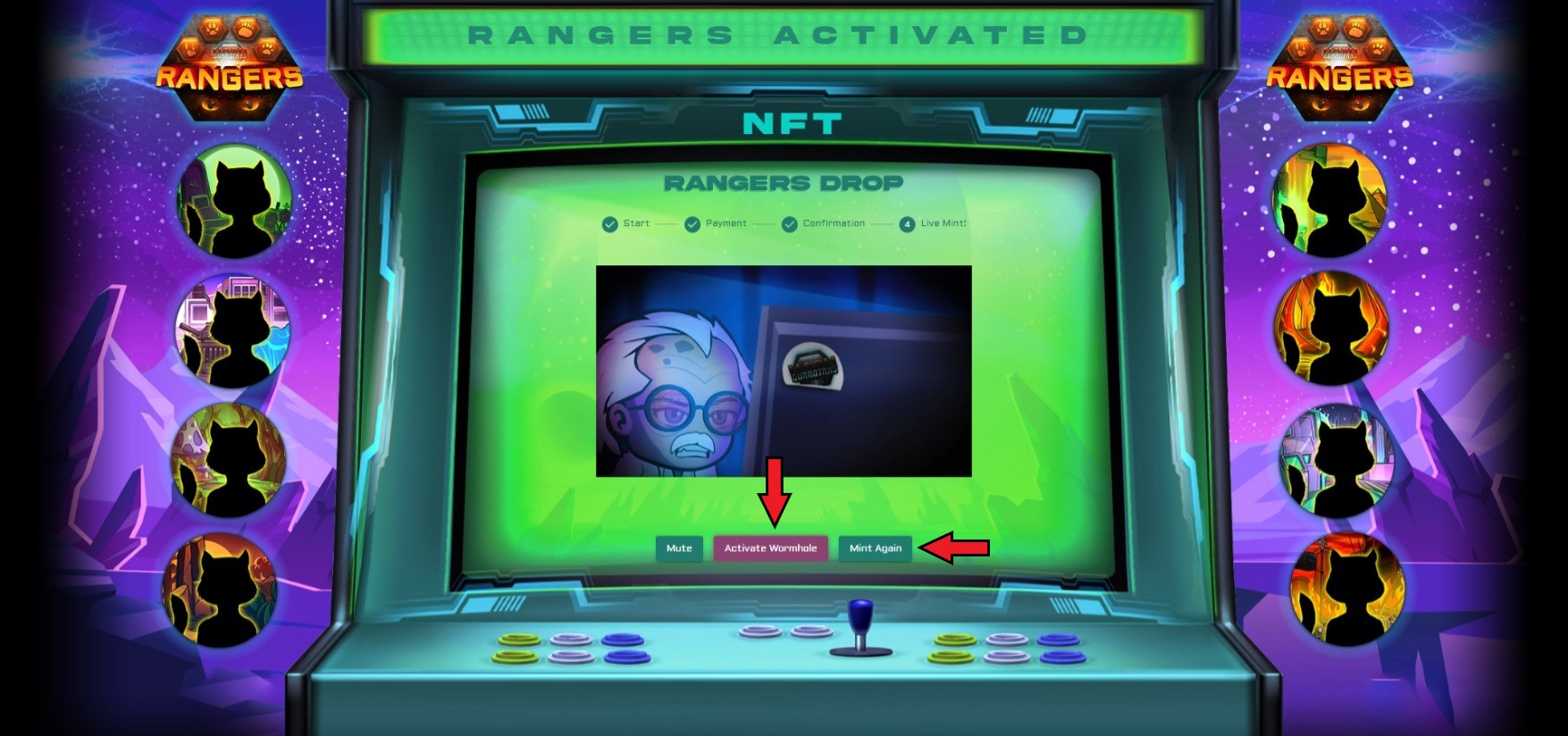 Professor Hash has a special surprise for our minters, just like aways! Apart from the minting video and seeing Live Reveal of your NFTs, we also have a new feature – the wormhole!

The wormhole gives every minter the chance to win an additional NFT from some of our other collections! Just click the Activate Wormhole button to start the wormhole feature!

Note: If you forget to open the wormhole, that is okay! All the information on the winners is stored on our system and you will still get your prize.

Want to mint again? Just click the mint again button and add another Wildcat Ranger to your collection!


Mobile Minting on the Early Access Mint
In order to access the early access mint, you need to be connected to your HashGuardians.io account. This creates a bit of an issue with the mobile Eternl wallet, so we need to take a couple of additional steps.

You DO NOT need to follow these steps for the Public Mint using ADA. Only the Early Access mint.
Using the normal browser on your mobile device, go to our website and log into your HashGuardians account.
Click the on the green "Join Mint" button on our homepage.
After you have opened the minting page in your web browser, switch applications to the Eternl mobile wallet and access the Rangers mint on the Dapp store.
You should now be able to access your Rangers List, HashCoin, and Free Claim mints.
If you have issues, please open a support ticket in the HashGuardians discord.